Membership of Let's Get Golfing costs no more than a few golf balls! 
The value of membership, however, is worth much, much more. 
You will join the ever growing number of golfers who want to learn more about golf and whose game has improved as a result of joining Let's Get Golfing.  The knowledge you will gain from using Let's Get Golfing will help improve your game, give you confidence and you will enjoy this great game even more.
Rules & Etiquette Video Quiz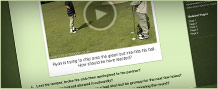 You can't play golf without a reasonable knowledge of Rules & Etiquette, we teach this in a fun, interactive way, using video clips of real golfing situations.
Personal Round Statistics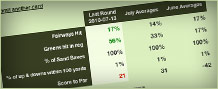 Entering information in the statistics section after a round of golf gives you an instant visual overview of your strengths and weaknesses. Essential to improve.
Balls in Unusual Places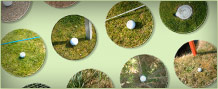 No matter how good you are your golf ball will have a mind of its own and end up in some unusual places, find out what you should have done here.
20 REASONS TO JOIN LET'S GET GOLFING
For all golfers:
1. Learn about the many aspects of golf at your own pace, in your own time and in just one place.
2. Most of our content is unique and not found on any other web sites.
3. No more trawling through dozens of web sites to find what you want.
4. There are over 500 high quality video clips to date hundreds more planned.
5. The information on Let's Get Golfing is from golf professionals and organisations - specialists in their own fields.
6. Let's Get Golfing has a great deal to offer for all golfers, regardless of ability .... and there is much more, from advice to parents to a career in golf.
7. Don't risk injury, exercises to warm up properly.
8. Recommended by many PGA Professionals.
9. Plus a great deal more….. and much more to come in 2012 including competitions and accessory reviews.
 For Novices and High handicappers:
10. Tuition - clips of the 'Basics' to help you remember what you have been taught plus on course situations.
11. Essentials - many 'how to' clips such as 'where to stand on the tee or green, repair divots, rake bunkers, etc.
12. Rules & Etiquette videos 88 scenarios makes learning R&E fun!
13. Balls in unusual places is unique to us and helps you to quickly identify procedures when your ball goes astray.
14. A guide to equipment, and custom fitting all explained by Sigma Golf, who manufacture the PGA Collection.
For Mid to Low Handicappers, all of the above plus:
15. Statistics - really important. Members can easily keep a record of how they play, identify weaknesses and can share the data with a Pro to arrange specific lessons.
16. Golf psychology with Dr Karl Morris and Dr John Pates.
17. NLP & Hypnotism in golf.
18. Mind training with Heartmath and Sports Mind Coaches.
19. An introduction to 3D total golf analysis with John Watson.
20. More advanced specialties coming in 2012.
The content of Let's Get Golfing will keep growing, as a member, if you want to know something specific ask us and we'll see what we can do to add it!
What Our Members Have To Say:
"I only signed up to Let's Get Golfing a week ago, and I can honestly say that I think it is absolutely brilliant!!!! Now in my forties, and an ex-low handicapper who hasn't played properly for over twenty years, your site is really helping me to get back into the game that I love!"
Paul
"We have signed up on Let's Get Golfing and are really impressed. It's very well put together and the bite sized chunks are very informative and user friendly. I will be recommending it to others but obviously not to people I play against!"
Pam
"Having people like Karl Morris is obviously fantastic, I went through every one of his videos. I think all the instruction videos are clear and well done, high picture quality too which I think is important. There are quite a few things I have taken onto the course."
Hamish
So what are you waiting for: